In an increasingly connected world, the security of our networks is critical to ensure that consumers and businesses can reach the full potential of their technologies. Since nearly every sector of the global economy relies on a robust international ICT supply chain, every contributor throughout the supply chain has a responsibility to address the risks they face.
This is why TIA QuEST Forum members decided to build a new supply chain security management system that will help organizations verify suppliers and technology components can be trusted.
Learn more about TIA's new SCS 9001 standard
Released in January 2022, SCS 9001 is a process-based standard, built on top of a quality management system (QMS). Companies benefit from assured consistent security across all products and services by using SCS 9001 certified suppliers.
TIA Supply Chain Security Resources
TIA WHITE PAPER:
Presenting SCS 9001, the first-of-its-kind process-based standard for measuring and verifying trusted suppliers in the global ICT industry.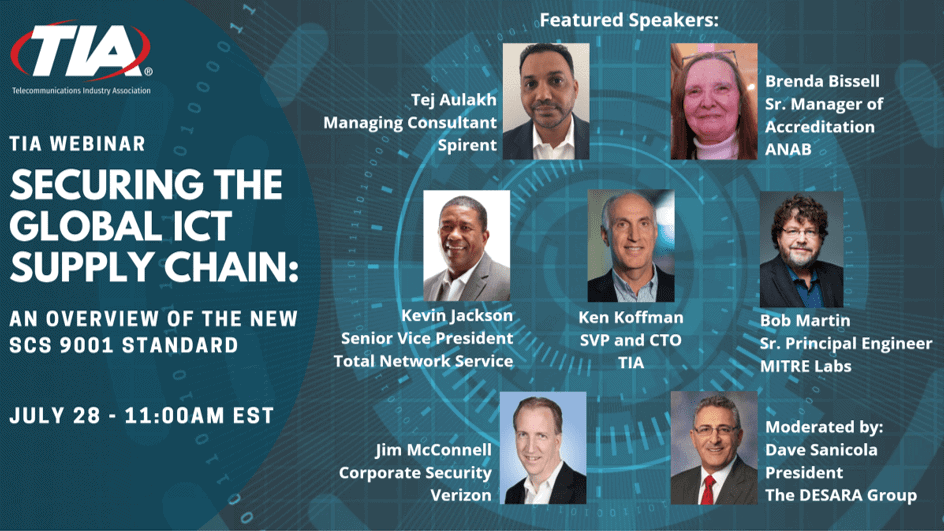 TIA WEBINAR:
Securing the Global ICT Supply Chain: An Overview of the New SCS 9001 Standard
---
Supply Chain Security Blogs
Zero Trust for Supply Chains: A Critical Aspect of the SCS 9001 Standard >READ NOW
Software Identification and Traceability: Essential to Securing the ICT Supply Chain >READ NOW
Why ICT Security Must Go Beyond ISO 27001 >READ NOW
Establishing Trust: Foundational to Securing the ICT Supply Chain >READ NOW
SECURING THE ICT SUPPLY CHAIN WITH SCS 9001
TIA QuEST Forum's Supply Chain Security Working Group developed the world's first ICT supply chain security standard, SCS 9001. The standard was developed on the Quality Management System to ensure continual improvement over time and to operationalize key industry guidelines and best practices, including the Prague Proposals, ISO 27001, relevant NIST standards and more.